Dear frozen meal I brought for lunch today, I'm sorry I forgot you in my purse until it was too late. I hate to waste food, but I just really didn't want to risk being sick all weekend from spoiled food.
Dear Sean, yesterday we were granted a license to wed. Guess this means it's really happening, huh?
Dear 100+ pounds of candy, I'm so glad you arrived in the mail without melting, but I greatly underestimated how much of you there would be. Unless our wedding guests eat their weight in treats, we may just have enough leftovers to last a lifetime.
Dear 90-degree weather, you're not so bad, but I kind of prefer your friend 70-degree a little more. I can live with it for now, but on June 23, please send 70 so that I can avoid passing out in my very heavy wedding dress.
Dear Birchbox, you were a fun surprise in the mail this week. But I have to admit, I wasn't as jazzed as everyone said I would be. Maybe this month's goodies just weren't what I was looking for. I'll give you at least 1 more chance.

Happy Friday friends!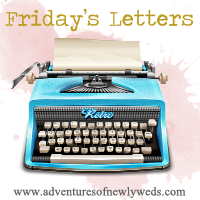 Dear Friday, have I told you lately that I love you? You make waking up easier, getting through the day more fun, and my mood exponentially more positive. Thank you!