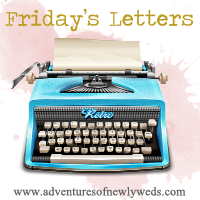 Dear mother nature, Saturday is sandwiched between two BEAUTIFUL days. Seriously? Could you do me a favor and just keep those scattered thunderstorms away from us tomorrow? At least, most preferably, between the hours of 3 and 5 p.m.?
Dear Sean, I'm going to be your wife tomorrow! Whoop!
Dear girls, I can't wait to spend the day with you today, getting pampered, having lunch, and hopefully taking the afternoon to relax by the pool. Love you ladies!
Dear time, please go slowly for the next 48 hours. We've waited a long time for this day and want to savor every last second.
Dear soon-to-be husband (who gets 2 letters today), you look pretty damn good with a baby in your arms. Just sayin'. Did I mention we're getting married TOMORROW?