I came across this linkup today and thought it was the perfect inspiration I needed to post something—anything—today. And since our anniversary is the weekend, what timing, too! I've been working on a post about our first year of marriage but it's been a C-R-A-Z-Y week and I've hardly had time to breathe much less write (yet, I'm writing this), so more to come on that (hopefully tomorrow).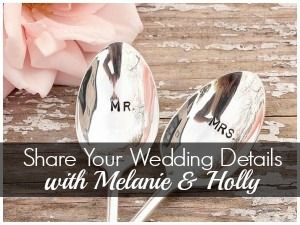 So back to the details. And lots of them – whew! This is probably more than any of you care to read, but it's fun for me to reflect and capture all of this. At one point I started wedding recap posts but never kept up, so now is a great time to do it all at once!
The date: Our wedding was June 23, 2012. I had always thought I'd have a fall wedding (being sticky and sweaty in a 15-pound dress didn't sound appealing, but it actually turned out just fine), but this was a date we had started to think about even before we got engaged. It happened to be my husband's birthday and his parents' anniversary, and when we realized it fell on a Saturday, it seemed meant to be. His dad died unexpectedly in 2009, so it was a very meaningful way for us to keep him especially close to our hearts that day.
The locations: We got married in a church in St. Paul—the same parish we both grew up in (and also the place we met, working at the child care center there). I never imagined getting married anywhere else and it was important to both of us to get married there. (We were also married by a priest who was serving in our parish when we were growing up. He knew Sean's dad – and family – well. It meant a lot to us to be married by someone who was special to both of us.) Our reception was at a golf course/club in Lake Elmo, MN. I considered a lot of places for our reception venue (many of my initial preferences were booked on our date), but we loved that this one had both indoor and outdoor space, was relatively affordable, and required limited additional rentals or decorations.
The details: The most challenging part of wedding planning for me came down to choosing a color scheme. I don't know why, but I couldn't seem to settle on something I loved. Then my mother-in-law shared a photo of a plum and green wedding that I loved, and we settled on it. The girls wore plum dresses and carried mostly green flowers. My flowers were a mixture of mostly purples and greens, and I had a few charms attached to the stem to remember loved ones who weren't able to be with us. We also had a bit of a polka dot theme going on. The guys wore polka dot ties (we bought them as gifts because I wanted something different than a standard tie), our cake had polka dots on it, and we had a candy buffet with polka dot bags that doubled as everyone's place card (among other things).

My dress was by Maggie Sottero, and I actually bought it at a sample sale at a local wedding shop. The guys wore rented tuxes from Men's Warehouse. My gifts for the bridesmaids were small tote bags/handbags, flip flops for dancing the night away, a gift card to the salon where we got our hair done, and jewelry (made by my aunt) for the day of the wedding. Sean gave the guys a basket full of engraved beer mugs, beer (or root beer for our underage brothers),
Lake Life
hats (a friend's company), and the ties they wore for the wedding.
The people: We had 6 bridesmaids (my sister, Sean's brother's girlfriend, and 4 of my best friends) and 6 groomsmen (Sean's 2 brothers, my brother, and 3 of his close friends), along with 2 ushers (2 close friends) and 2 personal attendants (2 of my girlfriends from high school). We didn't have any ring bearers or flower girls. In terms of the guest list, it was a good mix of family and friends from both sides. Our photographer and videographer were both friends of the family. We were happy to be supporting their small businesses and thrilled with the work they did. Due to space constraints, we weren't able to invite our cousins' kids to the wedding (it was a sacrifice we had to make given the timing, space, and budget), but almost everyone was very understanding. Leading up to the wedding, I remember one of the things I was most excited for was having all of our favorite people in the same room, meeting each other and celebrating together.
The ceremony: We had a traditional Catholic ceremony, though we did a few things our own way. My mom walked me down the aisle, which was very important to me. She is the reason I am who I am today and the only one who could truly give me away. Sean and his brothers also seated his mom (traditionally done by an usher or other family member), so that they could all light a candle for his dad before the ceremony began. For me, the ceremony flew by and I was just so excited to finally be husband and wife.
The in-between: After the ceremony, we had a giant limo bus pick us up and take us to the reception. We first stopped at the cemetery to visit Sean's dad and leave a boutonniere at his grave. After Sean and I had some time alone, the rest of the wedding party joined us and we toasted to his dad. From there we headed to the reception—dancing the whole way there. We took some photos on the venue grounds (gorgeous!) and headed in for the party!
The party: We started the night with dinner. While everyone ate, my Matron of Honor gave a speech, along with Sean's best man and (surprise to us) ALL of our groomsmen. It was actually very sweet. Our mom's also both gave very moving speeches. We also showed a slideshow. I remember hearing that one of the serving staff commented to someone that she had never been at such an emotional wedding before – even she was crying! Sure, some of them were sad tears, but most of them were happy tears, too. After dinner, Sean and I had our first dance (to one of his dad's favorite songs – "Have a little faith in me" by John Hiatt, as I described in this post), and he danced with his mom. Then the dancing and the party began!
The surprise: Somewhere in the middle of the dance the DJ cut the music and handed my mom the microphone. She called Sean and I up to the front of the room and started to explain where she and a few other people (my sister, my personal attendants) had gone between the ceremony and reception and why they had been mysteriously late. A couple weeks before the wedding, she and I had been at the mall and stopped in a store called The Gold Guys to see the dad of one of my brother's friends. A woman introduced herself to us as the producer for the reality show they were currently filming about The Gold Guys (we knew, from my brother, that this was happening). When she heard I was getting married soon, she started asking a lot of questions about Sean and I, saying that, as a TV producer, she's always looking for good stories. We talked for nearly 30 minutes and she took down both mine and my mom's contact info. We looked her up when we left and it turned out she was legitimate (she had produced such shows as Intervention on A&E), but we never heard from her again. Or so I thought. Turns out, my mom had heard from her. And they plotted together with several people to gather up their spare gold, go to The Gold Guys after our ceremony to film a segment of them exchanging it, and then come to the reception and present Sean and I with a check to go towards a honeymoon! So a reality TV show crashed our wedding reception! It was quite the surprise. There were mixed reactions at first, but in the end it turned out to be such a sweet gesture for my mom to go to such lengths to present us with something like that. The show was supposed to air last fall but I believe it's been put on hold for now. I'll share more when and if we hear.
One of the only photos I have from this part of the day - getting interviewed by the TV crew after the big "reveal"
The honeymoon
: We weren't able to go away right after the wedding (we spent the wedding night at the St. Paul Hotel) because Sean was in the police academy at the time, but several months later - in January of this year - we finally took our
honeymoon
. We took a cruise to Belize, Honduras, and Mexico and it was so much fun!
I know a lot of people say it, but I really do mean it when I say this was the greatest day of my life so far. Marrying my best friend with our closest friends and family around us is a dream come true, and everything went so smoothly that I couldn't have asked for anything more - except for maybe more time to enjoy it!